Thank you for downloading Nemo!
Here's a quick tour of how Nemo can help you climb.
JOIN DISCORD
We are happy to get feedback, discuss your suggestions, and process bug reports.
Pre–Game
Our Champion Overview screen gives you a look at the meta. You can browse summaries per Tiers, sort the table, and look up individual champions. Hover over Pick Rate and Ban Rate to see the exact numbers.
Tiers consider both Game and Lane Winrate, accounted for the Pick Rate and sample size
Server Picker supports multiple individual regions and aggregated data
Rank Picker enables you to see stat for each bracket or high Elo only
Counter Picks are more likely to win the lane against the champion
Draft
When you accept a draft mode game with Nemo running, we immediately pick it up. First comes the Ban Screen, which recommends bans that would help each of your teammates. The screen is updated in real-time, so you will see bans from others as they come through.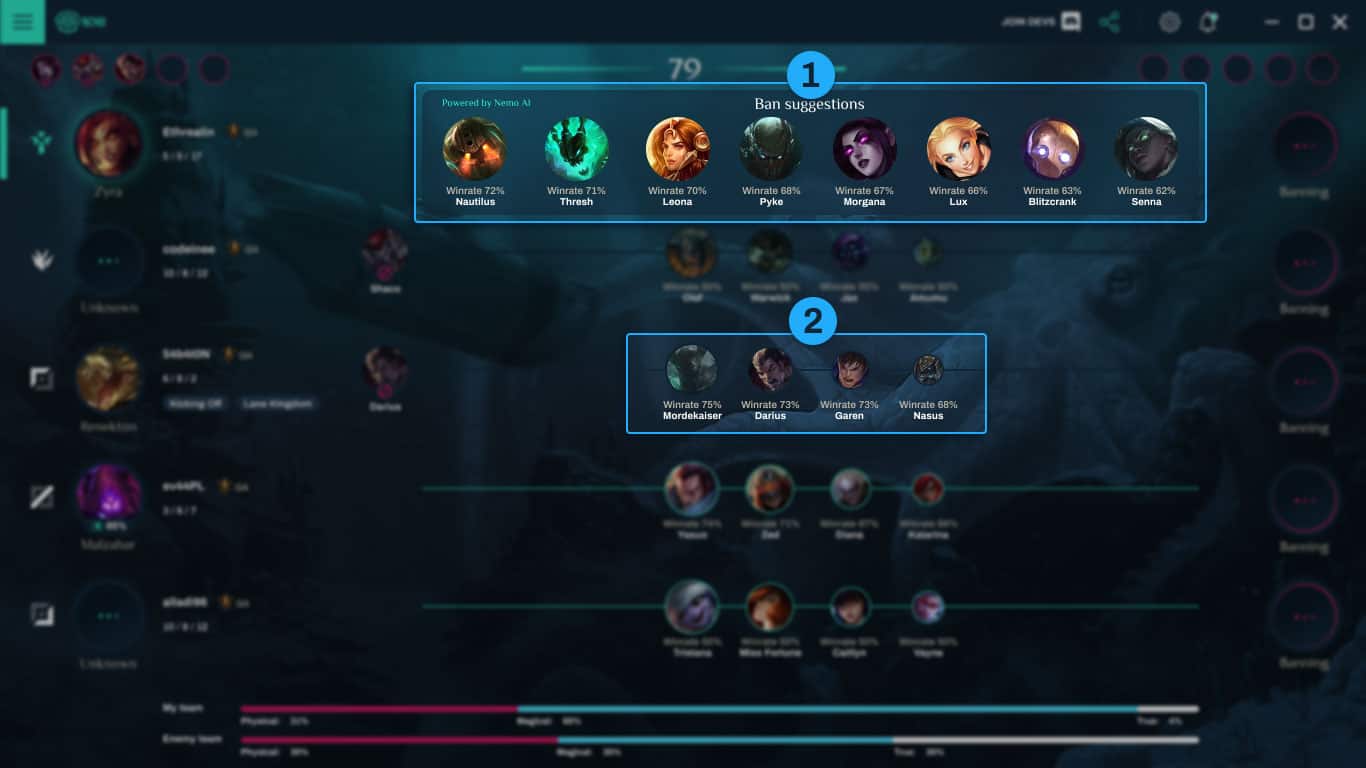 Personal ban suggestion enable you to win the lane
Ally ban suggestions allow you to help a strong ally instead
Once the bans are revealed, it's time to choose your champion. The Pick Screen tab offers meta suggestions as well as personalized recommendations. These are based on Synergy, Countering, Personal Win Rate, Mastery, and Difficulty of the champions. The options next to allies would fit a particular teammate best, while champions next to opponents have the highest countering potential.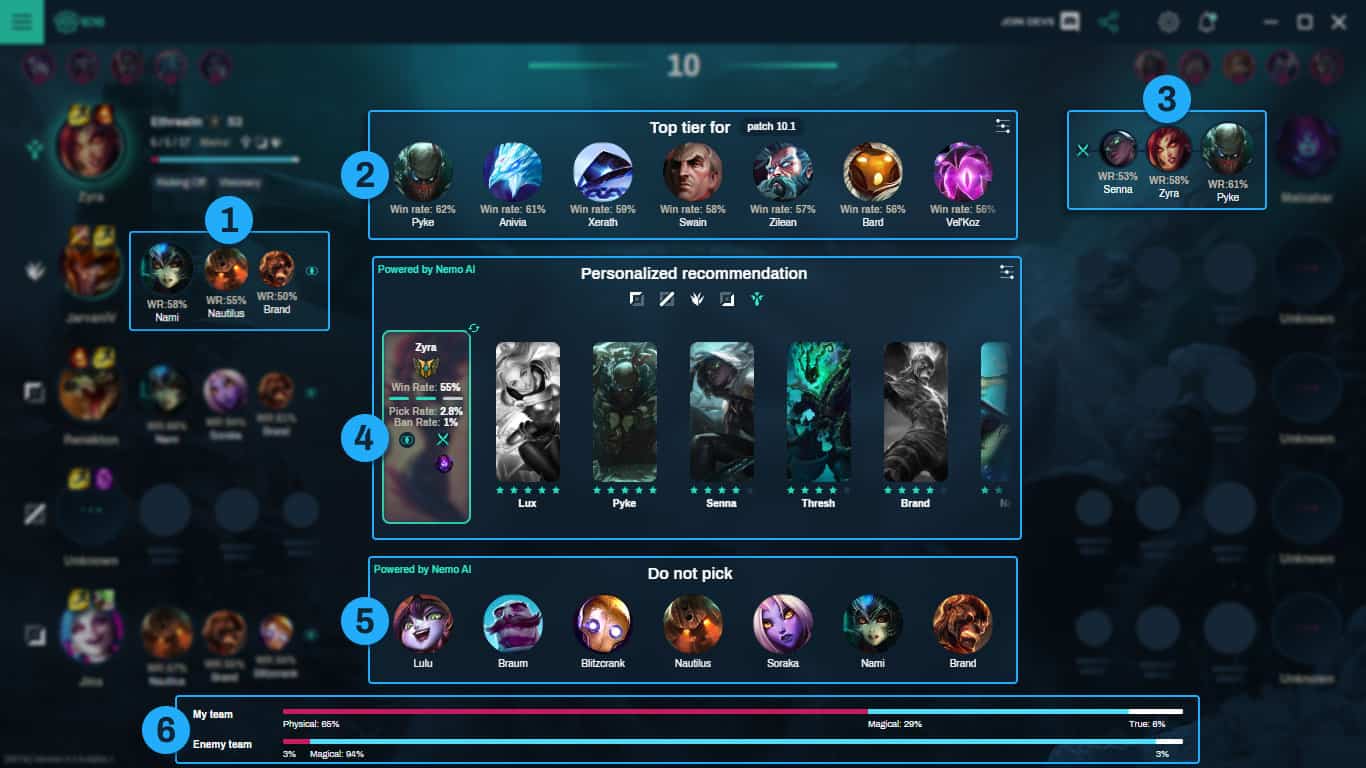 Synergy recommendations emphasize interaction between you & particular ally
Top Tier displays only best picks of the patch
Countering recommendations aim at neutralizing particular enemy
Personalized recommendations consider your match history & other picked champions
Do Not Pick section considers both meta & your match history
Damage Breakdown shows updates a ratio of Physical:Magical:True damage in real time
Locking in your champions takes you to the Builds Screen. You can import the whole build or just parts of it. Summoner Spells and Runes are equipped immediately, and you will see the list of items in the in-game shop. The ability order shows up in the shop as well. Feel free to brush up your memory with work-in-progress champion guides. Arrows in the top-left corner allow you to switch between Pick Screen and Build Screen.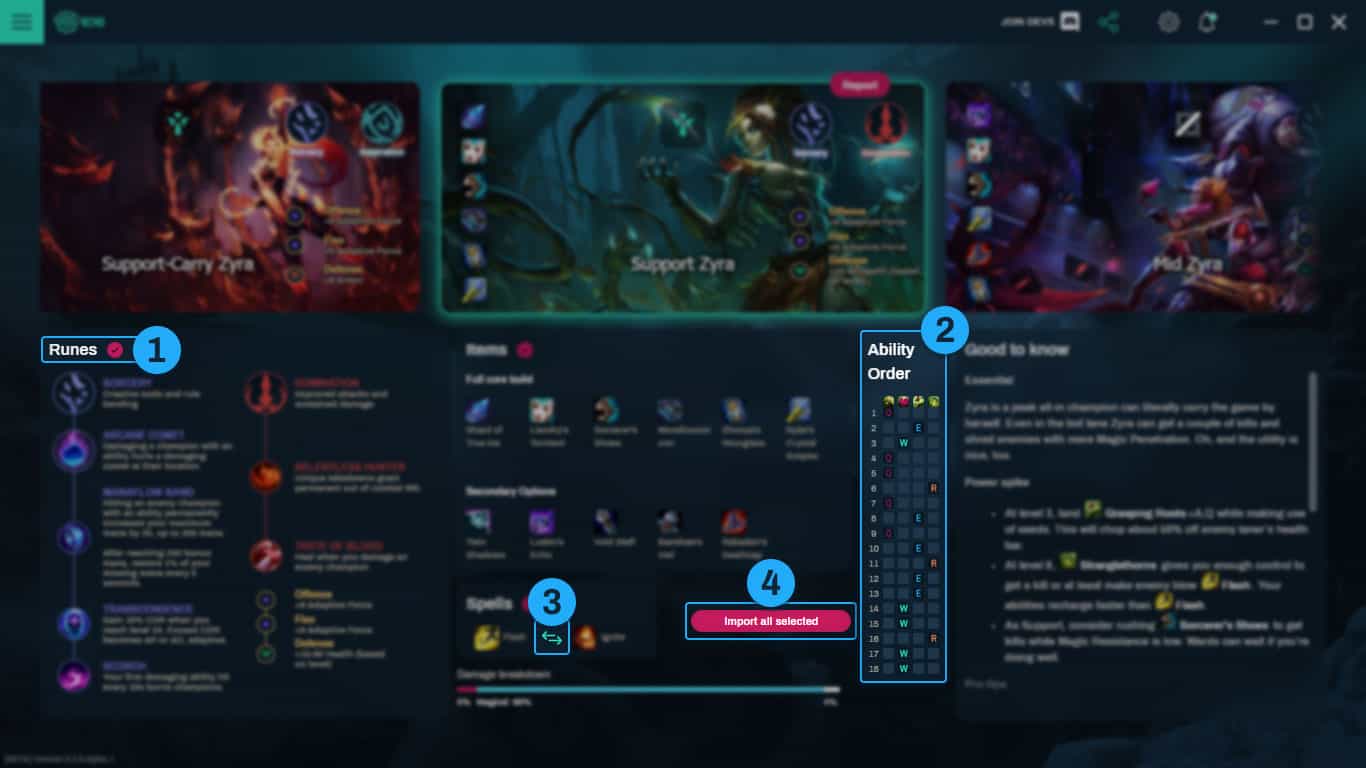 Checkmarks allow you to import individual parts of the build
Ability Order will be part of your item build in the in-game shop
Summoner Spells Switch does just that
Import button is vital: we decided against auto-imports
In–Game
After the draft ends, Nemo switches to the Matchup Information Screen. It illustrates your strength at various stages relative to the enemy playing the same position. You can move players on the screen in case we misidentified your rival or you want to compare yourself with the others.
Power Spike Curve indicates at which stage of the game you're stronger or weaker than the enemy
Role Switch allows you to correct Nemo prediction
We are happy to get feedback, discuss your suggestions, and process bug reports. Everyone from the team hangs out on our Discord server. Join us to chat about Nemo, get early access to new features or submit cool builds!