LoL Preseason 2021: Itemization — Mythic Items, New Builds, Counter Items, Item Updates
As we're approaching Worlds, it's high time to talk LoL Preseason 2021 Itemization changes. This is the key focus of Riot Games for the upcoming year, so they did not simply cut obsolete items and add a couple of new options. Let's check them out.
LoL Preseason 2021: Mythic Items
Mythic Items are a brand new class of items added in LoL Preseason 2021. They are designed to be quite strong items themselves—stronger than all items currently available in the game. The caveat here is a relatively high cost and the limit of one Mythic item per champion.
Perhaps the key feature of Mythic items, however, is that they enhance all other completed items. Mythic items were designed to complement established roles but they also provide options, not just inflate the regular stats. It would be tricky to achieve (and even trickier to predict) for all roles, but TL;DR here is Mythic items enhance your strong points or cover up weaknesses.
League's lead producer provided two Marksman options to illustrate the Mythic items philosophy. The first one, Crimson Shieldbow, both provides a defensive HP% threshold buff and adds extra protection to other items.
The second option, Behemoth Slayer, adds true damage to your auto attacks and boosts Critical Strike damage.
Finally, Galeforce offers a dash to any Marksmen but does that in a way that should not upset the game balance. After all, it can hardly be used to get out of the fights.
LoL Preseason 2021: New Builds and Counter Items
Recommended builds in League of Legends have always been a hit or miss. The ratio of hits to misses, however, has never really been on the people creating those builds. If the champion or their preferred items were never caught up in the meta shifts, the builds would remain largely relevant throughout the season. Otherwise, looking up items elsewhere (such us our companion app) is the only viable option.
In the Preseason 2021, the new default tab Recommended now suggests items one by one. You have multiple options to continue your builds based on the general offensive/defensive routes. The suggestions come from previous patches' data, so they will be relevant all the time unless the item was just revamped.
Note that there are also Commonly Built options under the three huge recommendations blocks. This resembles third-party websites that aggregate statistical data across multiple regions and patches. Just like with those services, it looks like there's no context as to why some items are performing better than the others.
Although the new store does not have a separate tab for counter items, there's some element of that. The item recommendations feature two champions that a particular item would be great against. As far as this alpha presentation goes, there is no context for these suggestions either. It could stay so, as this implementation is in line with the new principle of helping players who feel overwhelmed.
The All Items tab was revamped as well. It now features fewer filters illustrated by icons instead of phrases, and popular options for the particular champion are highlighted. The shorter list is an overall improvement over the dozens of previous filters, although the icons will take some time to get used to. Then again, alpha footage may have a placeholder that will later be replaced with something more recognizable—perhaps icons that currently represent your in-game stats?
LoL Preseason 2021: Item Updates
Preseason 2021 splits the item pool into three roughly equal chunks. Some items are staying the same, underperforming options will be adjusted, and the rest will be replaced. Among the second group is Sterak's Gage, which will be tweaked to thrive in team fights specifically. The devs didn't demonstrate the updated version.
As for new items, the "not upset the game balance" point from the previous section will be contested by the developers during the Preseason. For example, Cursed Demonhelm opens the Pandora's box of AP bruisers itemization. There are no details beyond this new group of items but the sheer scope of replacing ⅓ of the items will inevitably lead to overpowered options.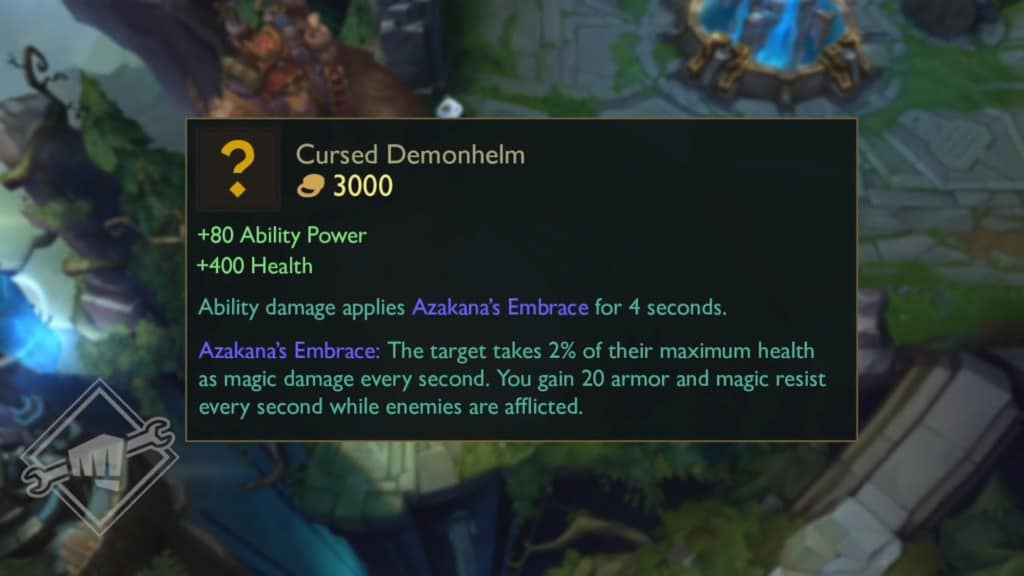 LoL Preseason 2021: Test Changes
All the LoL Preseason changes are first shipped to the Public Beta Environment server. Everyone with Honor 3 and above can make an account there, and I recommend you do that before the Preseason rush. The demand may prove too high, as seen during the Teamfight Tactics unveil.
What is new in LoL Preseason 2021?
So far, Riot Games have talked only about itemization. They are adding Mythic items, revamping the store, and replacing about a third of the all items.
How do Mythic items work in LoL?
Mythic items both provide powerful buffs and increase stats of all other completed items. You can have only one Mythic item at a time.
How can I test the Preseason 2021 changes?
You should sign up for the Public Beta Environment server. New League of Legends patches are shipped there at least two weeks before they hit the live servers.
Related