[UPDATED] Worlds 2020 Draw: Here's Where the 22 Teams Ended Up
As Play-In starts on September 25, it's time for the Worlds 2020 draw hype. The tournament format has changed as well, so the draw will truly be special.
Worlds 2020 Draw Schedule
Riot Games has started to host Play-In and Group Stage draws on the same day. The 12 teams with Group Stage byes are seeded into 4 groups, and the best squads from Play-In simply take one of the remaining spots in each group. The playoffs draw is held separately.
In 2020, the draw is set for September 15. The official time has not been announced but the planned LoL Esports YouTube broadcast indicates 14:00 CET/05:00 PT/08:00 EST. The playoffs draw usually occurs at the end of the last group stage broadcast.
Worlds 2020 Play-In Draw
Play-In Draw Results: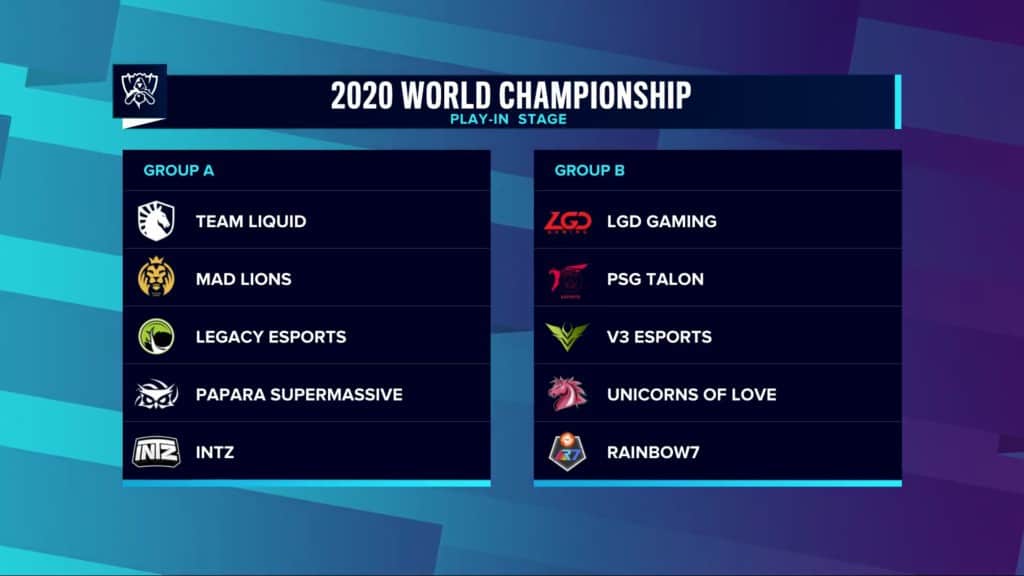 Below is the pre-draw explanation of the format
Usually, 12 teams are seeded into 4 groups with the top 2 squads playing a single bo5 match to earn the spots. Worlds 2020, however, had Vietnamese teams forfeit their spots due to COVID-19 travel restrictions (the tournament is still happening in China). As Riot opted against replacing those teams, Riot Games had to revamp the Play-In stage.
The Worlds 2020 Play-In draw will start with 2 groups of 5 teams (Riot bumped Korea's third team up to Group Stage). They will be drawn based on two pools that take into account regional performance at MSI and Worlds from 2018 and 2019. Each group will have two Pool 1 teams and three Pool 2 squads.
Play-In Pools:
The updated format eliminates the need for Play-In Deciders draw, especially now that the two best teams qualify for Group Stage directly. We already know that 3rd-4th teams within the group will face off in a bo5, and the winners go on to fight the 2nd squad from the other group.
Worlds 2020 Group Stage Draw
Group Stage Draw Results:
Below is the pre-draw explanation of the format
As is tradition, Group Stage will have 4 groups with 4 squads in each. They are the top 4 squads from Play-In and 12 teams from the major regions. The latter were equally distributed between three pools while Play-In winners are treated as Pool 4 teams. Groups will have one team from each pool.
As far as Pools are formed, Riot continues to run a mixed set of constants and variables. Major leagues' champions are Pool 1 no matter what, but other squads seeded differently based on 2018-2019 regional performance. Note how LPL, whose teams won Worlds in 2018 and 2019, have their third representative bumped to Pool 2. This should on paper give them weaker opponents. This advantage comes at a cost to the most underperforming major region, LCS, as their second team is in Pool 3.
Group Stage Pools:

The group stage draw has one additional restriction: no group can have two teams from the same league. As the draw procedure is analog and not digital (balls with team names just like in football), such errors can actually happen. In this case, the team is bumped up to the next group until there are no errors. For example, if Group B is about to have Korea's DRX on top of DAMWON Gaming, DRX is bumped to Group C. If Group C already has the last Korean team, DRX is bumped to Group D.
Worlds 2020 Knockout Stage Draw
The playoffs are once again a single-elimination bracket with 8 teams. After the Group Stage concludes, Quarterfinals matchups will be determined with group winners facing runner-ups. Notably, teams from the same group should not meet again before the Final. Regional restrictions no longer apply, as KR vs KR and CN vs CN matches keep happening in Quarterfinals year after year.
Knockout Stage Bracket:
Worlds 2020 will run from September 25 through October 31. Check out our guide to learn more about the format, teams, schedule, and COVID-19's impact on the League of Legends' biggest tournament of the year.
When does the Worlds 2020 draw happen?
The Play-In and Group Stage draws are scheduled for September 15. The time is unknown yet.
What teams made it in Pool 1 for Worlds 2020?
Riot Games keeps seeding champions of the major leagues into Pool 1. In 2020, they are G2 Esports, Team SoloMid, Top Esports, and DAMWON Gaming.
What will Worlds 2020 Knockout Stage draw look like?
The top teams from each group will face runner-ups from other groups in the Quarterfinals. The Knockout Stage draw, usually happening at the end of the Group Stage, will reveal the full playoffs bracket.
Related