[UPDATED] Worlds 2020: Format, Teams, Schedule, COVID Restrictions — Everything We Know About the 2020 League of Legends World Championship
Despite that global coronavirus pandemic going on, Riot Games are still planning to host the 2020 League of Legends World Championship in China. The esports team has always been keeping tournament details vague before August/September, and Worlds 2020 is naturally even worse. Still, here's everything we know or can deduce about the format, schedule, teams, and impact of COVID restrictions.
Article Updates:
09/09

: 22nd (and last) Worlds 2020 team

06/09

: 19th-21st Worlds 2020 teams

02/09

: VCS withdrawal and Play-In format update

30/08

: 8th-18th Worlds 2020 teams

23/08

: 6th-7th Worlds 2020 teams

22/08

: 3rd-5th Worlds 2020 teams

21/08

: second Worlds 2020 team

09/08

: first Worlds 2020 team

01/08

: Worlds 2020 organization updates from Riot
Worlds 2020: Format
Update from September 2, 2020:
As Vietnamese teams forfeited their spots due to COVID-19 travel restrictions, Riot Games decided against replacing them. The tournament will proceed with 22 teams instead of 24. This makes the Play-In stage more forgiving. 10 teams will be split into two groups with a single round of best-of-1 matches. The top 1 squads qualify for Group Stage immediately. Teams that placed third face the fourth squad from their group in a best-of-five series. The winners of those matches compete against second-place squads from the other group for the remaining Group Stage spots. These clashes are bo5 as well.
The Group Stage is more of double round-robin bo1 matches, except we now have 4 groups with 4 teams in each. The top two squads in each group qualify for the Knockout Stage while the other two are eliminated.
The Knockout Stage will have 8 teams battle it out in a single-elimination bracket: you lose once and you're out. The remaining participants will be drawn into 4 matchups (1st place vs 2nd place) with teams not knowing who they would potentially face in the Semifinals. All matches are best-of-5.
Worlds 2020: Patch
The Worlds 2020 patch will be Patch 10.19, which is scheduled for September 16. Just like all updates since Patch 10.16, this one should bring minor changes that do not disrupt the Summer Split(s) meta. We will know more on September 2, when Patch 10.19 hits Public Beta Environment.
Yone will not be available to the Worlds 2020 participants. He was released on August 6, which proved too late to be cleared for Summer Playoffs in the major regions (EU/NA/KR/CN). Champions that could not be played during split playoffs of at least one major region are banned from the nearest international tournament.
Worlds 2020: Play-In
The Worlds 2020's play-in draw gave us the following groups. You can learn more about the draw format from our separate in-depth article.
Play-In Draw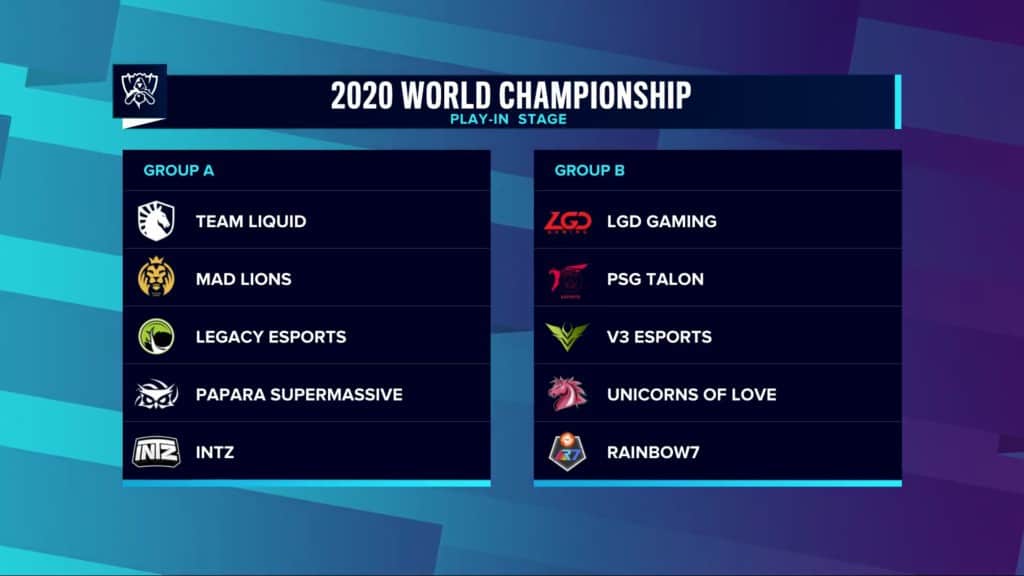 Worlds 2020: Group Stage
Below are the group stage draw results after the play-in. The teams that made it from the Play-In stage are placed lower than the rest of the squads within a group.
Group Stage Draw
Worlds 2020: Playoffs
The playoffs draw took place on October 11. Teams that placed first will battle no.2 squads from other groups. All matches are best-of-5.
Playoffs Stage Draw
Worlds 2020: Schedule
The schedule had to be adjusted for updated Play-In format with fewer groups and dependent playoff matches. As a result, it was revealed as late as September 14. The only other notable change is Riot once again hosting Quaterfinal matchups over four days, not just two. All matches will be broadcast on LoL Esports.
September 25–30: Play-In

Sep 25–28: round-robin (10:00 CET/01:00 PST)
Sep 29: 3rd vs 4th place matches (08:00 CET/23:00 PST*)
Sep 30: deciders (08:00 CET/23:00 PST*)

October 3–11: Group Stage

Oct 3–6: round-robin 1 (10:00 CET/01:00 PST)
Oct 8–11: round-robin 2 (10:00 CET/01:00 PST)

October 15 – November 1: Knockout Stage

October 15–18: Quarterfinals (12:00 CET/03:00 PST)
October 24–25: Semifinals (12:00 CET/03:00 PST**)
November 1: Finals (12:00 CET/04:00 PST)
*Broadcasts begin on the previous calendar day (Sep 28–29, not Sep 29–30)
**October 25 semifinal is affected by the fall back from daylight time
Worlds 2020: COVID Restrictions
Update from August 1, 2020:
Our assumptions about COVID restrictions were correct. Riot Games will hold all stages of Worlds 2020 in Shanghai, with teams arriving 2.5 weeks before Play-In/Group Stage. They will be living (and probably competing) in a "bubble": a restricted area with only players and essential personnel with most banned from leaving the premises. Live audience is still on the table for Pudong Soccer Stadium: Riot may be allowed to fill up a portion of the 33,000 seats.
As local restrictions and epidemiological situation get in the way of properly touring the host country, Worlds 2021 will take place in China as well. ESPN sources claim that North America, the original host for Worlds 2021, will simply be bumped to 2022. There has been no communication from Riot Games about either Worlds 2022 host or the next time NA will host their first Worlds since 2016.
Original text from July follows.
Now, it would not be an outlandish idea to have an offline event in China early in the fall. Their curve has been very flat for the past few months, and the country knows a thing or two about isolating people coming from abroad. If you bring the players to China about two weeks before they start competing, it should not be an issue.
In fact, you could argue that players may not even need to quarantine before the tournament. As far as risk vs reward goes, we are clearly not talking about having any live audience for Play-In and Group Stage. The teams may play these matches out from individual houses that they use while waiting out the quarantine. This will put players in very similar (and rather good) connectivity positions. As LEC and LCS suggest, Riot are willing to let teams play from their houses without a referee standing behind them if that's what it comes to. Broadcast teams can work remotely, as a lot of members have had to during the last few international events.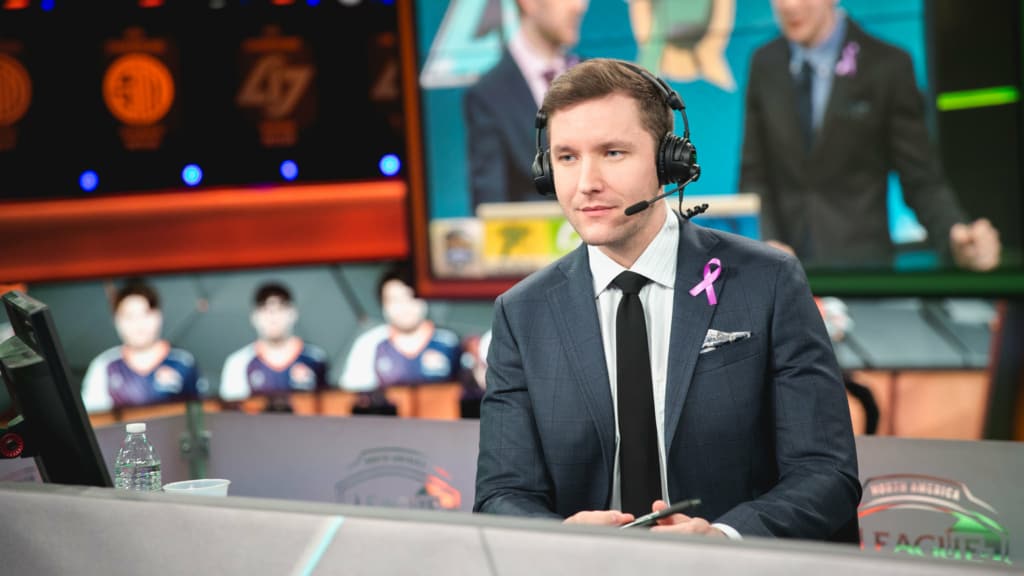 Live finals, however, is where things get complicated. Riot Games normally books huge arenas (Bird's Nest in 2017!) for the finals, and letting people in at a much lower capacity is becoming the new standard. On July 9, however, China canceled all sports events for the rest of the year. It happened the day after Riot had announced that Worlds 2020 would conclude in Shanghai as planned. There has been no further communication from the tournament organizers since the General Administration of Sports pulled the plug.
The real deal breaker could come from the difference in how well countries are handling the coronavirus pandemic. USA (4M cases) and Brazil (2M) make up some of 40% of total cases, so the travel in and out is very limited. History suggests not having North American teams is hardly a blow to the competition but, jokes aside, it would be tough to sell the idea of an international tournament without a major region. LCS owners would be furious.
That being said, hosting Worlds 2020 in China is still viable. The worst-case scenario can have players from the most affected countries flying in on private jets. If live events are indeed not an option before the end of 2020, playing out the tournament from separate houses is hardly different from quarantined foreigners playing SoloQ together.
When does Worlds 2020 take place?
Worlds 2020 was originally scheduled to begin in October 2020, but the new dates are September 25 through November 1.
Where will Riot Games host Worlds 2020?
Due to the COVID-19 pandemic, Riot Games had to cancel their initial touring plans for Worlds 2020. All matches will be played in Shanghai and not across China. The finals venue is Pudong Soccer Stadium with a capacity of 33,000.
Is Worlds 2020 canceled?
No, the 2020 League of Legends World Championship is happening. The organizers had to stick to Shanghai and not multiple regions of China. Players will have to arrive a few weeks earlier to self-isolate and then compete in a restricted "bubble" facility. Live audience is not happening before finals and is not guaranteed for the ultimate shotdown yet either. The tournament starts with the Play-In stage on September 25, 2020.
Has any team withdrawn from Worlds 2020 due to COVID-19?
Yes, the COVID-19 travel restrictions prompted Vietnamese squads to stay home and not compete at the Worlds 2020 in Shanghai. They will not be replaced by teams from other regions. The tournament will proceed with 22 participants instead of 24.
Related